Educating is a life-long experience
Lansing provides excellent onboarding and training programs to ensure that each new member of our family hits the ground running, learns their role and how it impacts the company's success, and is in the best position to "wow" their customers. A detailed onboarding program awaits every new hire to help ensure a smooth transition.
We are proud to offer extensive ongoing training and development of associates at all levels, including offering a quarterly training bonus to hourly branch associates and Warehouse Managers. Because our associates learn in different ways, we are proud to offer a variety of different training and development programs to meet them where they are.
Face-to-Face Training
We offer several in-person, multi-day programs at our beautiful Training Room (named Commitment) in the Richmond Home Office. Those programs include Lansing University (Lansing sales process), Lansing University 2 (branch leadership), and Lansing Management Fundamentals (skill-building for new people managers).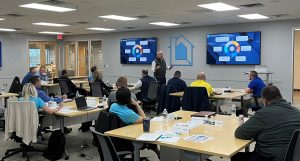 We also hold annual national and regional meetings for our Sales and Operations teams to discuss goals, share best practices, create networking opportunities, and strengthen the Lansing culture.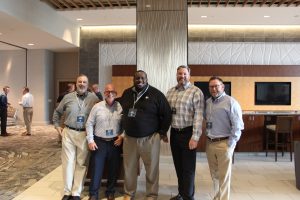 Online Learning
Lansing Learning is our robust eLearning platform available to all associates, with a library of courses on all aspects of our work – systems, products, safety, operations, sales, company history and culture, skill-building, and much more. We continuously add relevant content to support continuing education for Lansing associates. Each new associate receives an onboarding curriculum that includes Lansing Learning courses, in addition to networking calls with leaders around the business and checkpoints with their manager. In addition to Lansing Learning, we offer a suite of virtual, instructor-led training courses, which allow our associates to learn "live" from a Lansing expert and ask them questions in real-time.

Career Growth & Development
We want every Lansing associate to feel that they have the tools and resources they need to realize their fullest potential. Lansing Achieve, our one-stop platform for career growth and development, allows our associates to explore critical areas like goal-setting, mentoring, internal mobility within Lansing, and leading the Lansing way. We created Lansing Achieve in response to feedback from our associates and continue adding to this platform as our business grows and team members' needs evolve.